Before 1847, when Boone County was organized, its history was Iowa's history.
Early Years
The first Europeans known to set foot in what later became Iowa were the French explorers Louis Joliet and Father Jacques Marquette, who traveled down the Mississippi River in the summer of 1673 and visited Native American villages on the river's western shore.
During the next 200 years, white settlers from the east and immigrants from Europe pushed into the Midwest, driving Native Americans westward. The US government encouraged the settling of western lands and tensions between various Native American tribes and white settlers increased as the government gained control over western territories. That control began with the Louisiana Purchase in 1803, when Jefferson purchased the Louisiana Territory, of which Iowa was a part, from the French. Three years later, as a prelude to eventual settlement, Lewis and Clark explored the purchase lands, including what became the western boundary of Iowa.
Subsequently, Iowa became part of other western territories. In 1812, when Louisiana became a state, the Missouri Territory was formed out of the Louisiana Territory. Although the Michigan Territory was organized in 1805, Iowa did not become a part of that territory until 1833. Three years later, Iowa became part of the Wisconsin Territory in advance of Michigan's 1837 statehood. In 1838, the Iowa Territory was broken off from the Wisconsin Territory. Iowa became a state in 1846.
A critical conflict between government forces and Native Americans occurred in 1832 when Sauk leader Black Hawk attempted to retake the Illinois village of Saukenauk setting off the Black Hawk War. Three months later, Black Hawk and his warriors were defeated at the Bad Axe River in Wisconsin. Following the war, the Black Hawk Purchase of 1833 helped to open up Wisconsin, Illinois, and Iowa for settlement.
In the wake of the Black Hawk Purchase, Lt Col. Colonel Stephen W. Kearney lead three companies of the First Regiment of the United States Dragoons, up the Des Moines River from Old Fort Des Moines into southern Minnesota. Their mission was to assess the Indian situation in Iowa and to explore the land for future settlement. On June 23, 1835, Capt. Nathan Boone, youngest son of Daniel Boone and commander of Company H, camped near Mineral Ridge in what is now Boone County.
Organization of Boone County and its Townships
Twelve years later, Boone County was organized and named for Nathan Boone, but for more than two years after its founding in February of 1847, it remained a part of Polk County. By 1849 residents wanted their own county jurisdiction in which to vote, pay taxes and do business. Under Iowa law, the county sheriff was responsible for ordering the election of county officers, but there was no Boone County Sheriff. Therefore, on May 8, 1849, William McKay, judge of the Fifth Judicial District, of which Boone County was a part, appointed Samuel B. McCall county sheriff. Before the election could occur McCall had to divide the county into voting precincts, so he created Boone County's first three townships--Boone, Boone River, and Pleasant Townships. The election of county officers from these townships was held on August 6, 1849. The newly elected commissioners then voted to reconfirm McCall's townships.
From 1849 to 1860, ten townships were established by Samuel B. McCall and John B. Montgomery. McCall, as organizing sheriff, created not only the first three townships of Pleasant, Boone, and Boone River, but also, as county court judge after 1851, created the townships of Berry (1852), Dodge (1852), Yell (1852), Des Moines, (1858) Worth, (1858) Douglas (1858), Cass (1858), Marcy (1858), and Pilot Mound (1858). Montgomery, as county judge, created Union (1856) and Jackson (1857) Townships. McCall served as county judge from 1851 to 1854 and again from 1857 to 1859; Montgomery served from 1854 to 1857 and from 1859 to 1863.
Between 1852 and 1871, township boundaries were reconfigured several times and the four earliest townships ceased to exist as new townships were organized. Boone River Township ceased when Dodge Township was formed; Boone Township ceased with the creation of Des Moines Township; Pleasant Township ceased when Douglas Township was created; and Berry Township ceased when Cass Township was organized.
In 1860, Iowa law transferred the power and duties of transacting county business from county judges to a board of supervisors, consisting of one elected member from each township. In 1870, another law reduced the size of county boards of supervisors to not more than three. In January of 1871, Boone County Supervisors created seven new townships: Harrison, Colfax, Garden, Peoples, Beaver, Amaqua, and Grant, completing the present township arrangement of seventeen.
Towns and Cities
Madrid, located in present day Douglas Township, is the oldest town in Boone County. The first resident of Boone County, Charles W. Gaston of Pennsylvania, settled in the Madrid area in 1846 where he married his second wife, Anna C. Dalander.. The Dalanders, Swedish natives, had immigrated to the area in 1846 and were the recipients of Boone County's first land deed in 1849. Swede Point, now part of Madrid, was first surveyed in May of 1851 and officially filed for record in February of 1852. Other plats for the town were filed in 1853, 1855, and 1857. Gaston later was responsible for giving Madrid its Spanish name. According to the 1914 History of Boone County, Gaston was named the executor of his mother-in-law's estate. He argued with some of the family, and "out of resentment to them he changed the name [of Swede Point> to Madrid. About the time of this change Mr. Gaston had in his employ a Spaniard, who often spoke of Madrid, the capital of his native country. He [Gaston> held the Spaniard, his country and capital, all in contempt; so to get even with his Swedish brothers, he took from the town its Swedish name and substituted for it the Spanish name."
In July of 1851, two years following the Boone County's first election, the county seat was officially established at Boonesboro, now West Boone, in present day Des Moines Township. Between 1849 and 1851, court sessions were held in various homes and buildings. After 1851, court sessions moved several times in Boonesboro before the first permanent courthouse was built in 1856-1857. Boonesboro was incorporated on June 4, 1865, at which time it had a number of businesses and about 2,000 residents.
Although the courthouse and county offices were to remain in Boonesboro, within 10 to 15 years the economic and commercial center of the county shifted to Boone. Established by John Insley Blair in 1865, the new railroad town of Boone Station or Montana sprang up a mile and half east of Boonesboro following a dispute over the location of the railway station and line. From a couple of hostelries in the early 1860's, the town grew rapidly. By 1866 retail businesses, homes, churches and schools were springing up. By 1867 there were 300 buildings and the town had a population that rivaled Boonesboro. Boone was first incorporated as Montana in 1866. In August of 1871, a petition was filed before the Circuit Court to rename the city "Boone". On September 11, 1871, the city council ordered the name change. By 1887, Boone and Boonesboro had grown close together; so on March 21, 1887, Boonesboro was annexed to Boone. A state legislative act of March 23, 1888, officially changed the name of the county seat from Boonesboro to Boone: "Whereas, Said incorporated Town of Boonesboro, Iowa, became by proper proceeding in March A. D. 1887, annexed to the City of Boone, Iowa, and no conditions were mentioned as to the name therefore be it enacted by the General Assembly of the State of Iowa: Section I. That the name of the county seat of Boone County, Iowa, shall be known and designated as Boone Iowa, instead of Boonesboro, Iowa."
Ogden, located in Yell Township, was platted by Blair in 1866. He named the town for his friend and fellow railroad magnate, William Butler Ogden. Like Boone, Ogden was a railroad town. Ogden's first residents were railroad men William Patterson, John Regan and George Stanley. Patterson and Stanley argued and Patterson followed Stanley to Ames where he killed him. Ogden was incorporated in May of 1878.
The town of Pilot Mound was laid out on September 8, 1881. It is located in the township of the same name. A post office, also with the name Pilot Mound, existed prior to the town. The name was derived from the large mound located in the region, which was called Pilot Mound because of its visibility to the surrounding area. The area also had witnessed an Indian battle between the Sac and Fox under Chief Keokuk and the Sioux under Chief Wamsapasia. Keokuk emerged triumphant, but the remains of many Indians killed in the battle were found in the region.
Boxholm, in today's Grant Township, was platted in April of 1900. The Newton & Northwestern Railroad, later the Fort Dodge, Des Moines and Southern, ran through the town. John B. Anderson operated a store and a post office at the town site prior to 1900. Anderson became the town's first official postmaster and was responsible for naming the community Boxholm after a town in Sweden. Boxholm was settled largely by Swedish immigrants.
Moingona, located in present day Marcy Township, was organized in 1866 when the Chicago and Northwestern Railroad established a station there. Coal was abundant in the area and the town and railroad prospered together until the coal ran out and the railroad straightened its line so that it no longer ran through Moingona. Moingoina, is notable because it was the home of railroad heroine Kate Shelley who on July 6, 1881, warned authorities of a bridge washout during a violent storm, thus saving the lives of railroad men and passengers.
Luther, in Worth Township, was platted in 1893, although there was a post office there in 1884. In 1883 Clark Luther, for whom the town was named, built a storehouse on the town's site and J. K. Jenkins opened a store. Jenkins was the town's first postmaster. A farming community, grain and livestock were shipped from the town when the Boone line of the Chicago, Milwaukee and St. Paul Railroad ran through it.
There were many smaller communities scattered throughout the county; a few still have homes or churches, but many have vanished. Ridgeport in Dodge Township, also called Mineral Ridge, was laid out near the summit of Mineral Ridge in May of 1854. Fraser, also in Dodge County, was laid out in 1893 by the Fraser Coal Company. Centerville and Daily City (Yell Township) were laid out in 1855. Daily City never materialized and Centerville died out after its mill was washed away around 1858. Incline, also in Yell Township, was an active coal mining village in 1880, but by 1914 the coal was played out and the town, except for a few cellar holes and foundations had disappeared. The area was later referred to as Shepardstown or Logansport. The town of Coal Valley, Marcy Township, was laid out in 1867 as a mining town. When the coal played out and miners moved away, the area reverted to farmland.
Angus in Union Township, originally called Coaltown, was settled in the 1870s. In 1885 Angus was the largest coal mining town in Iowa and had a population of between 3,500 and 5,000 persons. The Climax Coal Company, operated by railway magnate James J. Hill, was the largest of the nine companies operating in Angus. A strike, declining coal reserves, the closing of the Climax Mine, a bank panic, and changes in the management of the Minneapolis and St. Louis Railroad (the Mud Line) doomed the town. By 1900 there were only 333 persons left. Berkeley, first called Somersville, in Union Township, was laid out in 1883. Like Angus, it was on the Minneapolis and St. Louis Railroad.
The first mill in Boone County, built between 1849-1850 by Adam and Jonathan Boles, was located at Elk Rapids, established in 1851 in current Cass Township. There was also a stone quarry in the area. The first two roads in Boone and Dallas Counties, one leading from Boone County and one from Dallas County, met in southeastern Cass Township at Elk Rapids. They were established in 1850 when the area was part of Pleasant Township. By 1913, the Elk Rapids Viaduct, constructed by the Chicago, Milwaukee & St. Paul Railroad, spanned the Des Moines River in Cass County. Two villages grew up in Jackson Township, Jordan, and Zenorsville. Jordan was a railroad stop on the Chicago & Northwestern line. Although never platted or incorporated, Jordan continued in existence until 1976 when a F5 tornado ripped through the area destroying the village. Between 1876 and 1890 coal was mined in Zensorsville. In 1880 there were three coal mines in operation; by 1914 the community was gone. Mackey or Mackey's Grove in Harrison Township, was never platted as a town, but a post office, church, and a few businesses grew up in the area. Beaver in Amaqua Township was platted in 1879 and incorporated around 1911.
Settlers poured into Boone County after the Civil War. Following the war, the development of the railroads, which ran first through the cities of Boone and Ogden and later, as coal mining flourished in Madrid, Moingona, Boone, Ogden, Fraser and other Boone County communities, helped to spur immigration into the area. Government grants to war veterans also encouraged settlement. The railroads, farming, and from the 1850s through the early 1950s coal mining, were the major industries in the county.
Events And People
Milton Lott
Twelve-year-old Milton Lott froze to death along the Des Moines River in December of 1846. He fled his family's cabin near the mouth of the Boone River, after a raid by Sioux chief Si-dom-i-na-do-tah and his warriors. Milton's father, Henry Lott, had incurred the wrath of the chief by refusing to vacate his home after the chief informed him that he was an intruder on Sioux hunting grounds. Although the Sioux hunting grounds may not have extended as far north as Lott's cabin, the real motives behind the attack most likely lay in Lott's selling whiskey to the Sioux and pilfering their horses to sell for his own profit.
Whatever the actual story was, Milton fled in terror, leaving his mother behind, after the chief ordered him to deliver the horses on the Lott homestead to him upon pain of death. The Indians wrecked havoc on Henry Lott's property as Henry and his stepson watched from across the river, only going for help when the Sioux were long gone. When Lott finally returned three days later, he found his terrified wife alone, suffering from grief and exposure. She died a short time later.
John Pea and Henry Lott followed Milton's tracks to a spot near where a creek enters the Des Moines River below Centerville in Yell Township. They found Milton's frozen body on December 18, 1846 and placed it in a hollow log to protect it from animals until burial could take place. Milton was buried on February 14, 1846, with little ceremony near where he died. Henry Lott moved to the Madrid area in the summer of 1847 and then in the autumn to Fort Des Moines. He moved back to the mouth of the Boone River in 1849 and lived there with his second wife until her death a few years later. He farmed out his children and with his stepson moved further north where he again encountered Si-dom-i-na-do-tah. After the chief displayed silverware that had once belonged to Lott's first wife, Lott planned his revenge. The chief and his family were murdered by Lott and Lott grabbed the silver, later showing it to John Pea. He also stole the chief's horse, which was found by authorities in his possession and resulted in an, indictment for murder against Lott and his stepson by a grand jury in Des Moines. Before the grand jury could act, Lott and his stepson disappeared and were never seen again.
On Oct 11, 1903, John Pea identified Milton Lott's grave; and in November of 1905, the Madrid Historical Society placed a marker at the site.
Kate Shelley
On the afternoon of July 6, 1881, fifteen year old Kate Shelley and her family anxiously watched as storm clouds gathered over Moingona. By evening, Honey Creek had turned into a torrent of flood waters. Around 11 p.m. the Shelleys heard a train whistle, then a crash and the hissing of water: No. 11 and its crew were in the creek. Kate rushed out into the tempest with only an old lantern and the lightening to guide her. No. 4, the Atlantic Express, was due. Kate climbed the hill behind her home, and made a circular route above the creek to reach the railroad grade. As she called out to the men in the maelstrom, one answered. She told them she would go to Moingona for help. Struggling to the Des Moines River Bridge, Kate managed to cross it and run to the Moingona Station to alert the officials that the Honey Creek Bridge was out and engine no. 11 and its crew were in the creek.
She became a worldwide heroine. Poems and newspaper and magazine articles were written about her. For her bravery Kate was awarded two medals, one by the state of Iowa, the other by school girls of Dubuque. The Chicago and Northwestern Railroad gave Kate a free pass and stopped the train at her door. In 1891, the Chicago Tribune helped raise money for Kate's impoverished family by commissioning a rug to be made and sold. With the $917.05 raised by the rug's sale, Kate was able to build a new home for her family and purchase additional land. In 1903, the Chicago and Northwestern Railroad awarded her the position of Moingona station agent. She served until close to her death on January 21, 1912. The train made a final stop at her door to transport her to her funeral. She is buried in Sacred Heart Cemetery in Boone.
Shelley was present at the dedication of the Boone Viaduct on May 19, 1901. The longest, double track railroad bridge in the world, built between 1899 and 1901, it was renamed the Kate Shelley High Bridge sometime later. The new high bridge, opened in October of 2009, was constructed beside the old bridge and is also named the Kate Shelley High Bridge.
Mamie Doud Eisenhower
Mamie Geneva Doud was born in a small rented cottage at 718 Carroll Street in Boone, Iowa, on November 14, 1896. She was the second daughter of John Sheldon Doud and Elivera Mathilde Carlson. Doud was born in New York State, but worked for his father's Chicago meat packing firm which had a branch in Boone. His wife was born in Boone of Swedish immigrant parents. Mamie's older sister, Eleanor, was also born in Boone, possibly at 515 8th Street. The Douds left Boone for Cedar Rapids when Mamie was 9 months old. John Doud made a small fortune in the meat packing industry in Cedar Rapids and in 1905 moved his family to Colorado where they settled in Denver. Mamie grew up in Denver and San Antonio, Texas, where the family wintered. In 1915 she met West Point graduate 2nd Lt. Dwight David Eisenhower at Fort Sam Houston. A year later, on July 1, 1916, they married.
Eisenhower's military career took him around the world, frequently separating the couple. Until they purchased their Gettysburg farm in the early 1950's, they had no home of their own. Eisenhower reached the pinnacle of his success during WWII when he was named Supreme Commander of the Allied Expeditionary Forces in Europe. In 1952, and again in 1956, he ran for president and won both times by a landslide. Mamie was catapulted into the public eye as first lady. During the eight years of her husband's presidency, she was known for her charm and outgoing manner. She was the ideal wife, mother and hostess. The Eisenhowers retired to their farm in Gettysburg, Pennsylvania, in 1961.
During their marriage, the Eisenhowers returned to Boone to visit with Mamie's Carlson relatives when they could; and Mamie returned several times following her husband's death in 1969. Her last visit was in 1977, two years before she died. The Eisenhowers had two children Doud Dwight (Ikky or Icky), who died at age 3 in 1921 of complications from scarlet fever, and John Sheldon, born in 1922, and who followed his father into a military carrier. He is still alive.
GAR Encampment
June 6, 1906, marked one the biggest events in Boone history. That year, Iowa veterans of the Civil War, known as the Grand Army of the Republic (GAR), had their annual encampment, the 32nd, on June 5, 6 and 7 in Boone. In conjunction with that event, the Women's Relief Corps, (W.R.C.) held its 23rd encampment in Boone. Over 3,500 GAR veterans marched in a grand parade down Story Street with nearly 15,000 persons witnessing. According to first-hand accounts, the parade formed at 8th and Story streets at 1:30 p.m., and the soldiers marched north to 12th , then doubled back to 7th Street. They then went west on 7th Street to City Park (Blair Park, high school grounds), where they turned north on Carroll Street, marching back to 8th Street and past the reviewing stand where the parade disbanded.
In addition to the parade, participants enjoyed a band concert in City Park, excursions across the Kate Shelley High Bridge, and receptions throughout the city. Many of the events during the encampment took place in City Park, including campfires, speakers, song fests and meetings.
1908 Boone Suffrage Parade
At noon on October 29, 1908, 100 brave women took to the streets of Boone and protested for their right to vote. They marched with flags flying and a band playing from the Universalist Church, which was located on the southeast corner of 7th and Carroll Streets, down 7th Street to Story Street and up Story to 8th Street. There the parade paused for an open-air meeting which featured a brief address by the Reverend Dr. Anna Howard Shaw, president of the National American Woman Suffrage Association (NAWSA), and two English girls. After the speeches, the parade reformed, and the ladies marched back to the church on 8th and Carroll Streets.
The parade marked the only women's suffrage march ever held in Iowa and one of the first, and possibly the first, suffrage parade, to be held in the US. It was organized by two women, Rowena Edson Stevens, wife of Judge John L. Stevens, of Boone and Eleanor Elizabeth Gordon, an ordained Unitarian minister living in Des Moines, who was in 1908 the president of the Iowa Equal Suffrage Association (IESA.) Stevens was the organizer of both the Ames Political Equality Club and the Boone Equality Club as well as being a past president of the IESA.
The parade took place as part of the 1908 annual convention of the IESA, held on October 27, 28, and 29 at the Universalist Church in Boone. Suffragists from all over the state and nation were present. Shaw was the primary speaker during the three-day event.
The Boone County Historical Society and other statewide organizations reenacted the parade on October 25, 2008, in honor the 100th anniversary of the 1908 parade. A monument to the original parade participants and the Iowa women who had played important roles in the suffrage movement was dedicated on that day.
Information provided by Boone Historical Society
Courthouse History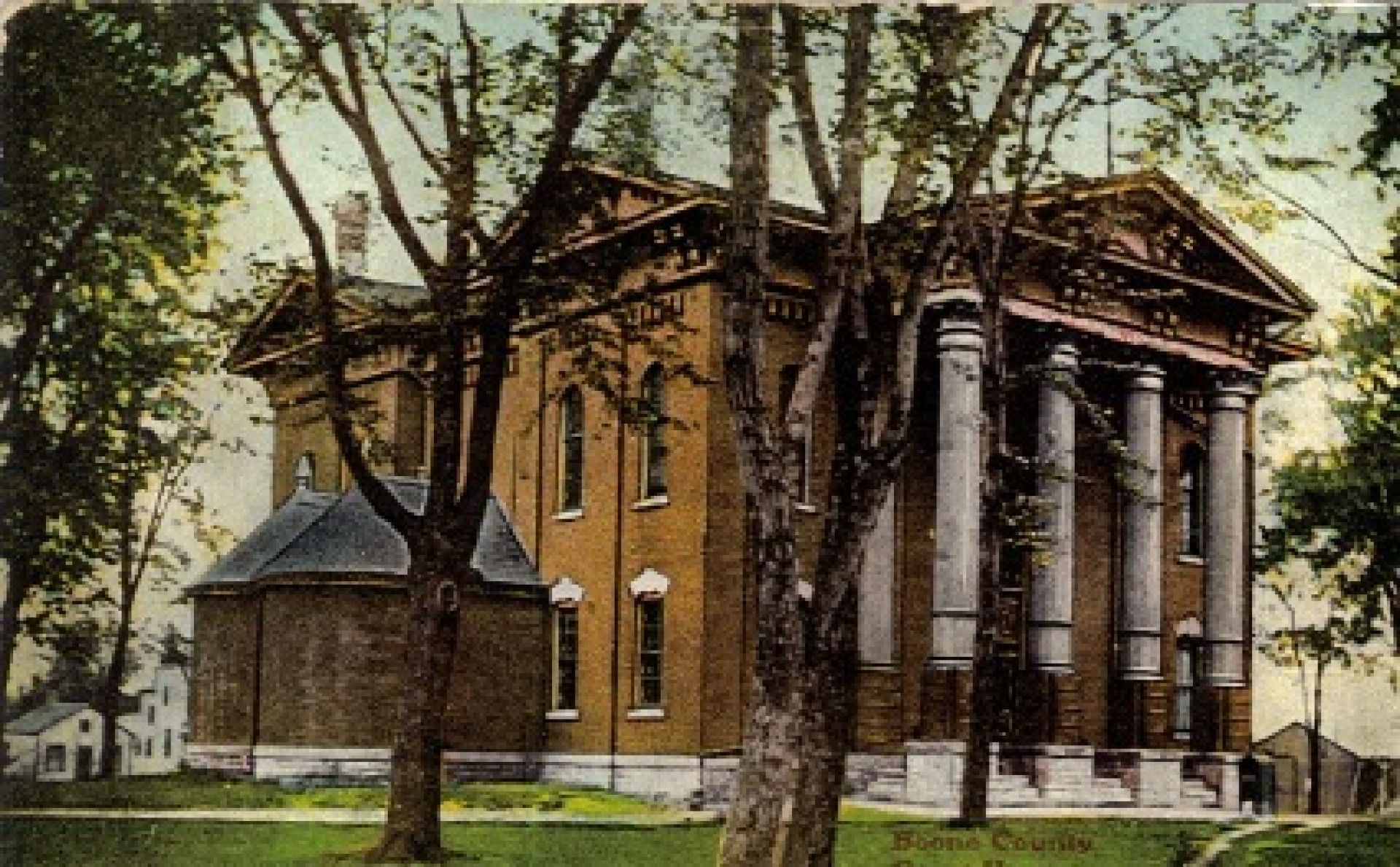 Boone County was organized in February of 1847. It was named for Nathan Boone, the youngest son of Daniel Boone, who had explored the lands near the Des Moines and Boone Rivers in June of 1835 as an officer of the US Dragoons. For more than two years after its founding, Boone County remained a part of Polk County, but by 1849 area residents wished to vote, pay taxes and do business under their own county jurisdiction. In order for this to occur, Iowa law specified that the county sheriff had to order an election of county officers. Therefore, on May 8, 1849, William McKay, judge of the Fifth Judicial District of which Boone County was a part, appointed Samuel B. McCall county sheriff. McCall then ordered the first election of county officers, which was held on August 6, 1849.
At first, court sessions were held in several Boonesboro (now West Boone) houses, those of John Boyles, John M. Wane and John M. Crooks. Early in 1851 court sessions moved to a log school house, located on Honey Creek about a half mile south of the present day skating pond in McHose Park. A marker denotes the site.
The county seat was officially established in Boonesboro in July of 1851. On July 26, 1851, recognizing the need for a permanent court room, Boone County Commissioners ordered Wesley C. Hull "to furnish a suitable room in . . . Boonesboro to hold court at the October term. . ." Hull built a double log cabin on lots No. 3 & 4 in block 12, across from the northeast corner of the Public Square. Two years later in 1853, court sessions moved again; this time to a new log school house, which was located where the Garfield School building is today.
Built between 1856 and 1857, Boone County's first public courthouse was a two-story frameOld Courthouse building, containing county offices as well as courtroom space. It stood on the corner of Third and Fremont Streets, a block east of the square. Only eight years later, changes were again in the air. In 1865, the new railroad town of Montana (Boone Station, now Boone), a mile and one/half to the east of Boonesboro, was challenging Boonesboro's economic and political status. Hoping to preserve Boonesboro as the county seat, residents, merchants and officials agitated for the building of a new, larger courthouse on the town square. Completed in 1868, this new brick building was located on the site of the present courthouse. Boonesboro had won the battle of the courthouse location, but by 1887 Montana (Boone) would become the driving economic and political force in the area when the two towns became a single municipality.
By 1915, a new courthouse was in order. The old brick building was given to the Boone Biblical Ministries, and in June of 1916 it was moved across the street. Employees continued to work in the building as it was moved, and it was reported that "not a drop of ink was spilled." It continued to function as a courthouse until the new building was ready in 1918.
The cornerstone for the current courthouse was laid on October 1, 1916, and the building was dedicated on May 1, 1918. It is 147 x 81 feet and has four entrances, each on a compass point. Constructed of Vermont gray granite and Bedford limestone, brick, and reinforced concrete, the building is virtually fireproof. Even the interior is built primarily of marble, granite and metal. Only the hand rails on the stairs and some other trim is wood. Cost of construction was $200,000. The building was placed on the National Register of Historic Places in 1981.
Written by Boone County Historical Society